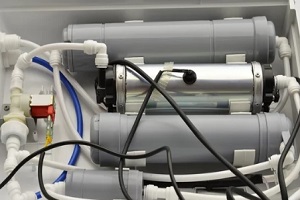 Ultraviolet water purification systems have become increasingly popular for home use because they can kill harmful microorganisms without using chemicals. If you are concerned about the quality of your drinking water or want to eliminate bacteria, viruses, and cysts, a UV system may be the right choice for you.
How Does UV Water Purification Work?
UV water disinfection utilizes germicidal ultraviolet light to disrupt microbe DNA and RNA, inhibiting them from replicating and infecting other organisms, including you. Inside the UV chamber, water is exposed to UV-C light, with the UV dose required to inactivate pathogens being calculated based on flow rate and transmittance.
Sensors help monitor the dose to ensure effective disinfection. The result is water that is free of viruses, bacteria, and protozoan cysts without using any chemicals. UV water purification is a simple, reliable way to create safe drinking water.
The UV chamber is an enclosed unit, keeping the water and UV light separate. Quartz sleeves protect the UV lamp while allowing the light waves to transmit through to the water, completing the disinfection process in just seconds.
UV systems are available in a range of sizes and capacities to handle different water demands. Home units can treat from 2 to 50 gallons per minute for point-of-use or whole-house applications.
What Contaminants Can UV Remove?
UV water treatment is highly effective against microbes such as:
Viruses – By disrupting the rotavirus, hepatitis A, norovirus, and other viruses, it prevents infection and illness.
Bacteria – UV penetrates the cell walls and damages the DNA of bacteria such as E. coli, Salmonella, Listeria, and Legionella.
Protozoan cysts – UV inhibits the ability of giardia, cryptosporidium, and similar cysts to reproduce.
However, UV does not remove or alter chemicals, heavy metals, salts, or other contaminants. If these are a concern, a UV system should be paired with filtration to remove sediments, chlorine, and other chemicals.
Benefits Of UV Water Purification
There are many advantages to using a UV water purification system:
Kills Harmful Microorganisms
The germicidal UV light used in water purification systems targets and destroys the DNA/RNA of viruses, bacteria, parasites and fungal cells, inactivating them so they cannot reproduce or infect you.
UV effectively neutralizes cryptosporidium, E. coli, giardia and other harmful pathogens that may be present in water sources. By disrupting their ability to multiply, UV renders these microorganisms unable to cause illness or disease.
Chemical-Free Process
UV disinfects water without requiring any added chlorine, iodine, chloramine or other chemicals. The UV light itself destroys microorganisms without any residuals remaining.
You avoid any chemical tastes or odors in your water since nothing is added. There are also no harmful disinfection byproducts created, which can happen with chemical additives. UV water purification uses only the natural process of light to disinfect.
Environmentally Friendly
Because no chemicals are added or residual waste is created, UV water treatment is an environmentally clean and green process. It does not change the pH or mineral composition of the water either.
UV systems help reduce reliance on plastic water bottles and the associated waste. The systems themselves contain recyclable components and use minimal electricity. Overall, UV is a sustainable, ecological way to purify water.
Low Maintenance
UV water systems require very little regular maintenance. The only routine upkeep is a simple annual UV bulb replacement, comparable to changing a light bulb.
Depending on water quality and hardness, periodic cleaning of the quartz sleeve to remove any mineral buildup may be necessary. Otherwise, UV systems run continuously with minimal maintenance required. Their enclosed, automated functionality keeps human contact to a minimum.
Safe
UV purification systems contain the UV light within a sealed chamber, separating it from any human exposure or contact. The germicidal light cannot escape the unit.
Because no chemicals are added either, UV systems are safe to have in homes with children and pets. They do not require handling or storage of hazardous substances. The units operate automatically, providing disinfected water on demand.
Cost-Effective
While the upfront cost of a UV water purification system may be higher than other options, UV systems have lower operating costs in the long run. You avoid regularly buying filter cartridges or chemical additives. The only recurring cost is an annual UV bulb, which is fairly inexpensive. Their electrical use is relatively low, too.
Preserves Healthy Minerals
Contrary to certain filtration methods that reduce beneficial natural minerals, UV disinfection does not remove or filter anything out of the water. It only irradiates the water to neutralize microorganisms.
The healthy mineral content, such as calcium, magnesium, and potassium, remains unchanged after UV treatment. UV does not reduce alkalinity or affect the water's pH either. This helps retain the natural composition and taste coming straight from the source.
Improves Taste
By eliminating the need for chlorine disinfectants and removing microorganisms in the water, UV treatment leads to fresher, cleaner-tasting drinking water. If overused, chemicals can impart unpleasant odors and flavors, and microbes contribute to foul, earthy tastes. With these removed, UV-purified water tastes more pure, clear, and refreshing straight from the tap.
Are UV Water Systems Safe?
Yes, UV disinfection systems are completely safe for home use. The germicidal UV lamp is contained within a closed chamber. The water flows through this chamber, but there is no contact between the water and UV light.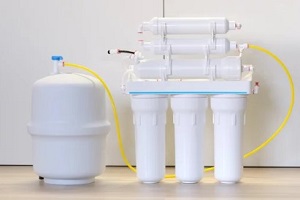 The EPA has approved UV water disinfection as a safe and effective process. The UV rays used for water treatment are not the same as the UV rays from the sun that cause skin cancer.
Rest assured, entire families can safely consume water disinfected by a UV system. Maintenance involves annual bulb replacement by unscrewing the lamp from its base.
UV systems are self-contained treatment solutions that sit out of sight below your sink or water heater. They operate automatically with no requirement for handling chemicals. The lack of chemical residuals also makes UV-treated water safe for fish tanks, pets, and plants.
Let Hawaiian Cool Water Help You Decide If An Ultraviolet Water Purification System Is Right For You
Deciding if an ultraviolet water purification system is right for your home requires carefully weighing the pros and cons. A UV system can provide effective disinfection without chemicals but also has limitations on the contaminants it can address.
As you consider the many options for home water treatment, leverage Hawaiian Cool Water's expertise. Our team of water purification experts has helped many homeowners find the best purification solutions for their needs and budgets.
Contact us today at (808) 755-2369 or online, and let us help you determine if an ultraviolet water purification system is the right choice for your use before making any investment.