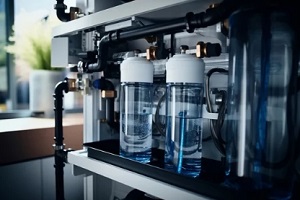 Deionized water systems are an integral part of many industries, playing a pivotal role in maintaining the quality and integrity of equipment and processes. Deionization, a process that removes mineral ions from water, results in high-purity water that is essential in industries ranging from pharmaceuticals to automotive repair.
Whether you're looking to install a modern deionized water system or want to know more about the benefits and use cases of this important water filtration system, read on to learn more about DI water systems.
What Is Deionized Water?
Deionized water, or DI water, is a unique form of water with various applications. Deionized water is a purified form of water that does not contain any traces of minerals such as sodium, calcium, magnesium, or potassium. DI water is free of all ions and is a pure form of water that is often used in scientific research settings, food processing, cooling systems, and many others.
Deionized water is widely preferred in industrial settings and research domains due to its high purity level and being free from ions and contaminants that can interfere with specific processes. When DI water is used in these applications, it does not leave behind any trace minerals or residues, which over time, may cause equipment or surfaces to become worn and aged.
This is why it's an ideal choice for applications that require a controlled environment. This includes laboratory experiments, pharmaceutical production, and specific manufacturing processes, where even minute impurities can significantly impact the quality of the end product.
Despite its purity, deionized water is not recommended as a source of drinking water. The process of deionization removes ions and minerals from the water, which are crucial for the human body. The lack of these minerals may lead to mineral deficiencies in the body and the development of various health issues. It's important to remember that just because water is pure does not mean it is ideal for consumption.
How Deionized Water Systems Work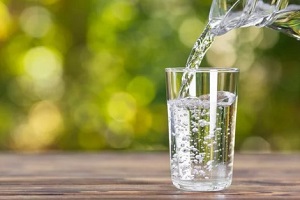 Deionized water systems work by utilizing a process called ion exchange to remove mineral ions, such as calcium, iron, and copper, from the water. The system consists of two tanks, one filled with a positively-charged resin and the other with a negatively-charged resin. As water passes through the positively-charged tank, it attracts the negatively-charged ions, such as chloride and sulfate. Similarly, the negatively-charged tank attracts positively-charged ions such as calcium and magnesium.
After the water is filtered through the system, the result is water that is free from these mineral ions, thus termed "deionized".
It's important to note, however, that deionized water systems don't remove non-ionic substances, such as viruses or bacteria, making it necessary to incorporate other purification methods if your aim is to also remove bacteria and other organic substances from the water source.
Deionized Water vs. Distilled Water
Deionized water (DI water) and distilled water are both forms of purified water, but they are produced through different processes and have unique properties.
Distilled water is produced by boiling water and then condensing the steam back into a liquid. This process removes impurities and minerals from the water. However, it doesn't remove all types of impurities such as certain organic compounds and viruses that are resistant to heat.
On the other hand, DI water is created by passing water through ion exchange resins that remove mineral ions like calcium and magnesium. It's worth noting that deionization doesn't effectively remove non-ionic particles such as viruses or bacteria.
The key difference between these two processes is the removal process: distillation relies on boiling and condensing, and deionization uses ion exchange. Each type of water is suited to different applications, and the choice between them depends on the specific needs of your use case.
Deionized Water System Use Cases
Having a Deionized (DI) water system can be greatly beneficial to various businesses for different reasons. For instance, in pharmaceutical companies, DI water is often used in product formulation and cleaning processes to ensure the absence of contaminants.
Laboratories, both research and medical, also significantly benefit from DI water systems as they provide high-purity water that is essential for accurate testing and experimentation. For local businesses, DI water systems can help provide a source of pure water that is perfect for cleaning without leaving behind any deposits or build-up over the long term.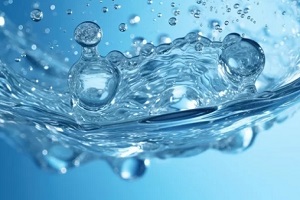 DI water is often used to clean smooth countertops without scratching them or leaving behind any residue. It is also used to clean various types of machinery that require a pure source of water that will not affect the inner operations of the equipment.
For example, DI water is recommended when cleaning out humidifiers or portable AC units that require a pure, mineral-free water source.
Get The Water Filtration System That Is Right For Your Needs With Hawaiian Cool Water
Deionized water is an important form of purified water that has its own set of unique use cases. DI water is a great option to have around any home or business, as it can function as an effective cleaning agent that will extend the life of machinery and leave surfaces looking brand new for years to come.
Whether you are looking to have a DI water system installed for industrial purposes or just to have access to this versatile form of water for your business, reach out to the water filtration experts at Hawaiian Cool Water today at 808-755-2369 or request a quote online.