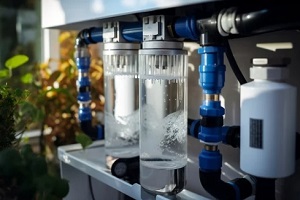 Water purification is essential for many industries. One of the most effective and versatile methods of producing ultra-pure water, free of nearly all ionic contaminants, is through water deionization systems. This article will take a closer look at how these systems work, their key components, major applications, and the benefits they offer.
How Water Deionization Systems Work
Water deionization (DI) systems utilize a process called ion exchange to remove dissolved salts, minerals, and other electrically charged particles from water. This process relies on specialized ion exchange resins – small plastic beads containing positive or negative functional groups.
As water passes through these resins, unwanted cations and anions are replaced with hydrogen and hydroxide ions, forming pure H2O.
Two main types of ion exchange resins are used:
Cation Exchange Resins: These contain negative functional groups that attract and remove positively charged cations such as calcium, magnesium, iron, and sodium. The cations are exchanged for hydrogen ions.
Anion Exchange Resins: These contain positive functional groups that attract and remove negatively charged anions such as chlorides, sulfates, nitrates, and silica. The anions are exchanged for hydroxide ions.
After the ion exchange process, the hydrogen and hydroxide ions combine to form purified water. The resins are periodically regenerated with acid and caustic solutions to restore their ion exchange capacity.
DI systems can be configured as separate bed systems containing separate cation and anion resins or as mixed bed systems in which the resins are combined. Mixed bed units provide superior water quality by enabling multiple ion exchange interactions within a single vessel.
The effectiveness of ion removal is monitored by measuring the electrical conductivity of the treated water. The lower it is, the fewer ions are present in the water.
Components Of a Water Deionization System
A complete DI system contains multiple components for water treatment, monitoring, and distribution:
DI Vessels: Fiberglass tanks containing the cation, anion, and sometimes mixed bed ion exchange resins. Vessels are periodically replaced or regenerated offsite.
Pretreatment: Multi-media filters, reverse osmosis, and UV systems may pretreat the water before DI to optimize resin performance.
Instrumentation: Conductivity sensors monitor ion removal. Flow and pressure switches automate operation.
Treated Water Storage: DI water is stored in stainless steel or polyethylene tanks before point-of-use distribution.
Distribution Pumps and Piping: Deliver DI water to various points of use around a facility.
Off Site Regeneration: Spent DI resins are removed, regenerated, and replaced via resin exchange services.
By combining DI vessels with prefiltration, storage, distribution, and regeneration, you can create automated systems delivering a continuous supply of high-purity water tailored for your specific needs.
Key Applications Of Water Deionization Systems
Due to its high purity, DI water has become indispensable for:
Electronics Manufacturing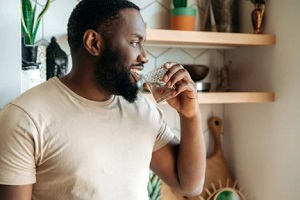 During semiconductor and other electronic component production, DI water prevents component corrosion and mineral deposits that could interfere with fabrication processes.
Pharmaceutical Production
High-purity DI water ensures drugs, injectables, and oral liquids do not become contaminated with traces of dissolved salts or metals.
Laboratory Use
DI water provides a contaminant-free baseline for analytical testing procedures and experiments requiring the highest quality reagents.
Power Generation
DI water cools steam turbines and other power plant components without causing scale buildup that reduces thermal efficiency. Any process or product where water purity is critical depends on DI systems to remove ionic impurities down to parts per million or even parts per billion levels.
Benefits Of Water Deionization Systems
Investing in DI water treatment offers you multiple advantages:
Reliable production of high-purity water: DI systems can consistently reduce dissolved contaminants to meet stringent purity requirements.
Removal of nearly all ionic impurities: The ion exchange process extracts almost all cations, anions, and dissolved salts from water.
Prevent corrosion and scale buildup: The absence of ions inhibits corrosion and mineral deposits in piping networks and equipment.
Environmentally friendly and reusable: DI resins are recycled and regenerated for repeated use with minimal waste.
Convenient and automatic operation: DI systems reliably produce purified water on demand with minimal supervision.
By leveraging DI technology's ion removal capabilities, you gain access to a contaminant-free water source supporting your quality objectives and process needs.
Maintenance Of Water Deionization Systems
While DI systems are designed for reliable, unattended operation, some periodic maintenance is required:
Resin Replacement: Exhausted DI vessels are replaced and regenerated offsite on a routine basis to restore performance.
Pretreatment Maintenance: Any filters, RO membranes, UV lamps, and instruments are serviced per manufacturer guidelines.
Instrument Calibration: Conductivity sensors and switches are recalibrated periodically to ensure accurate water quality monitoring.
Leak Checks: DI tanks and piping networks are inspected for leaks to avoid contamination or downtime.
Sanitization: Periodic chemical cleaning and flushing removes biofilms and prevents bacterial growth in DI systems.
With proper maintenance procedures in place, you can keep your DI water treatment operating optimally for years of trouble-free service.
Let Hawaiian Cool Water Handle Your DI Water Needs
High-purity water is critical for manufacturing, research, and other applications. By removing ions through advanced ion exchange resins, water deionization systems provide a level of water quality unmatched by any other purification method.
While the ion exchange process may seem complex, by partnering with water treatment experts, installing a properly designed DI system at your facility can be straightforward.
Hawaiian Cool Water's water purification expertise allows us to make the transition to DI treatment smooth while delivering the contaminant-free water vital for your work. Contact us today at (808) 755-2369 or online to learn more about how we can provide you with the high-purity water your applications demand through customized deionization systems.